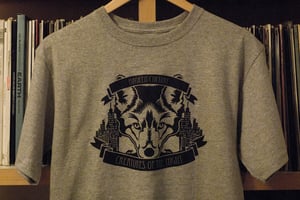 £

10.00 - On Sale
This design pays homage to the writers, ravers and producers lurking in the underbelly through the night. We love the cover of darkness when the city loses it's bustle as the frost settles in and the wind whips along the Thames under the apocalyptic glow of fiery clouds, the true wanderers of a sprawling metropolis emerge as foxes and rats scuttle silently through the undergrowth.
As Nas once said, 'The World is Yours', and that's never been more true then a cold winter night in the city. It's yours, but you have to want it. This is for the heads that want it.
Screen printed in the UK, we've used Anvil Premium Quality 190gsm Cotton tees for a fresh, long lasting and nice cut product that's ridiculously comfortable. Even the neck labels are easily removable for that final touch of comfort.
PLEASE NOTE: For international orders we need to work out postage costs prior to taking payment, please use our contact form and let us know how many tees you're after and your address so we can get back to you asap.